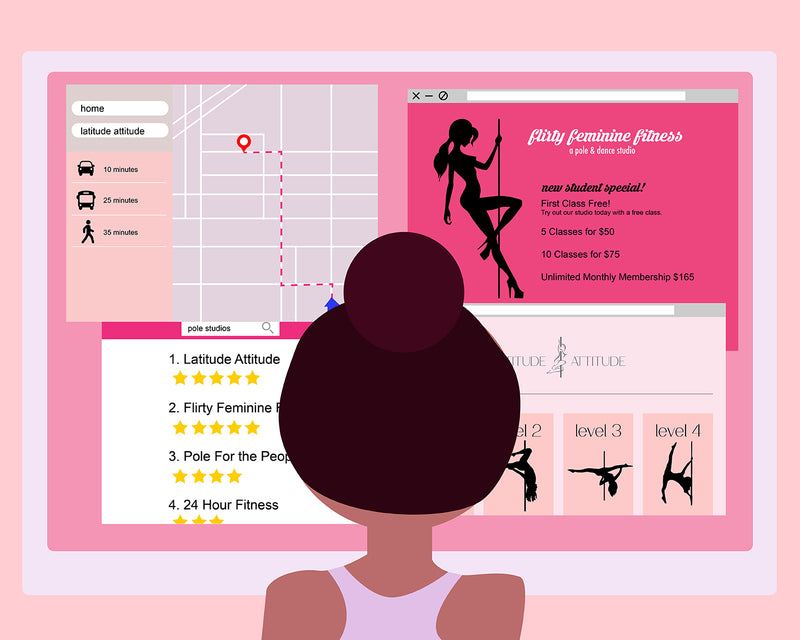 7 Tips for Finding A New Pole Dance Studio
Written by Lindsay Zdep
Pole family:

a group of women and men who provide unconditional love and support while you dance, laugh, and hang upside down; a.k.a your tribe
When I decided to move across the country, the hardest thing for me was leaving my pole studio. These people were the true definition of a pole family and had gotten me through some of the hardest times in my life. That's why I only had one stipulation when choosing a new home: move to an area where I can continue to pole. Not only do I absolutely LOVE it, but as someone who works from home, it's the best way for me to make new friends! 
However, choosing a new studio is a little daunting. Every pole scene is welcoming, but also a little different from each other! Here are some tips on finding a new pole studio (and family) wherever you go!
1. Location, location, location.
Get onto Google and start searching for pole studios in your new area. Keep in mind, depending on where you live, you may have to search larger towns or cities! You may also want to use a variety of phrases such as pole studio, pole dance classes, pole fitness, and/or circus arts. That will help you find a good summary of the types of studio in your area. 
2. Thoroughly review their website.
Every website is set up a little bit differently, but you should be able to find class descriptions, the schedule, pricing, and information about the instructors. Take your time and read through each of these! Chances are the level descriptions will vary from studio to studio as well as the membership options. Also, some studios split up spin pole and static pole classes. These are all things to keep in mind while you're looking for your next pole home.  
3. Email the studio.
As soon as I found a few options, I contacted the studio owner. I introduced myself and asked questions like "What level would I best be suited for?" "Do I need to bring my own yoga mat?" "Are there new student specials?" "Do you offer exotic heels class or are most classes done barefoot?" You should ask anything you feel you need to know to get the best understanding of the studio.
4. Try a few classes.
All of the research in the world doesn't compare to actually trying a few classes! Review the schedule for each studio, grab one of the new student specials, and try out different teachers and class types. Each place will likely teach things in a slightly different way and have their own vibe so keep an open mind. You'll only know where you're going to fit best by trying it out. Side note: Make sure you ask the studio owner which class you should start in! You can always change levels after your first class if it's appropriate. 
5. Compare packages.
Do you want a 10 class package or an unlimited membership? Compare packages between each other and between studios to see which one fits your needs (and budget) the best! If you're not sure how many classes you'll take to start, a class package might be better than hopping right into a membership contract!
6. Check out other perks.
It's not always just about pole! Do they offer other non-pole classes? Maybe they provide free bonus classes once a month or a lot of workshops with member discounts. Compare the studios as a whole to see which one would be best for you! 
7. A final tip.
If everything seems comparable, pick the place that you feel most comfortable and confident in! Nothing will ever beat that!
What tips do you have for finding and starting at a new studio?
Lindsay, a pole dancer for four years, found her love of aerial arts after a background in dance and weightlifting. She enjoys performing in showcases and periodically competing. Other interests include writing, hiking, gymnastics, and relaxing with her dog! Instagram - @mz_lyndzzeighh