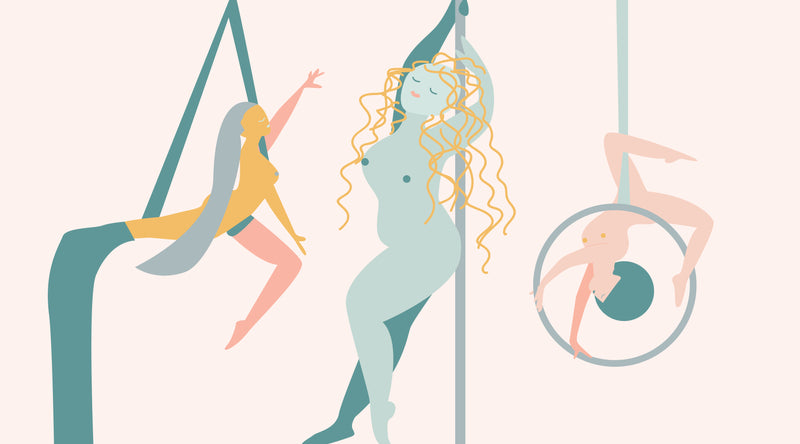 Confident, Strong, & Powerful: Aerialists on Body Positivity
Written by Annemarie Levakis
Remaining body positive and loving ourselves has become extremely difficult in today's society. The media has embedded the idea that we all need to look a certain way and be at a certain weight, which is why so many men and women struggle with their body image. I myself have struggled with fluctuating weight for a while up until I discovered my love for aerial fitness. Since beginning my aerial journey, I have crossed paths with many individuals who continue to inspire me every day and who I am lucky to call my friends. My last blog article was mainly about my story and growth which is why I wanted to focus this article on a few of the fiercest ladies I know and share their stories and experiences with you.
 Taylor
I met Taylor towards the beginning of my aerial journey. She and I began to take classes consistently around the same time. Something about Taylor that I have always admired was her ability to freestyle and create beautiful fluid movements freely without thinking about them, which is what I am constantly working towards on a daily basis.  
"I started my aerial journey four years ago. Since I had a yoga background when I first started, it molded my movements in the air! I adore being upside down! This is an art that helps men and woman of all ages connect with their sensual side as well. I find it very healthy and beneficial to connect with these movements rather than suppress them. Finding your confidence in pole and lyra can truly change your life as it has mine and others."
Christine 
Christine "Teeny" is another female I greatly look up to. I was fortunate to have her train me before my first lyra showcase. She is just as spontaneous in life as she is on the lyra and pole which is what I greatly admire about her. Teeny's strength and 'badassery' is definitely something that I would love to gain as she uses these qualities in her movements on each apparatus she masters.
"Pole and lyra have really changed my life. When I first started, I felt fine about myself but struggled a lot with low self-esteem. I had trouble with body image for years before. It took a lot of courage to approach pole and aerial in the first place but I am so happy I stuck with it. I was excited but also frustrated in a good way. I saw it as a challenge. I started to gain physical strength and get better and get those moves, tricks, and shapes I only dreamed of. That got me rolling and on a high every time I was able to nail something. I then started to get in the zone and got my own pole. When that happened I moved to the music, used my strength, started connecting moves, and found my home within my body. The power of dance, movement, and music has always had such a dramatic and incredible effect on me, and it only got better once I could dance in the air. Once you gain the physical strength you then gain the mental strength, as well as the confidence, attitude, and total bliss of a freestyle or choreographed routine. There is no feeling quite as powerful as getting in your body, getting in your zone, and feeling strong, confident, feminine, and seductive all at the same time. I started to get insecure about my arms getting so big and muscular, but now they are the things I am most proud of! They allow me to do the most gravity-defying acts. Without them, I wouldn't have come so far on my journey. It's so exciting to see your body change as you go and best of all, you do not even realize it is happening! You are just having a good time. Instead of an obsession as it has been in the past, it is a fun and exciting journey of dance and strength instead. I do not look for the body anymore, but the body finds me. Most importantly though, I have learned how to use my body to change my mind. Big, confident, and strong movements without a doubt have the amazing power to transform the mind. It is scientifically proven. Through dance, pole, and lyra, I have found these movements to be really fun, exciting, and extremely cathartic. I am so grateful for what I have found on this journey; a discovery of strength, ability, and sexiness I never knew I had!"
Laurie 
Laurie and I met in college and both went to school for theatre. She started her aerial journey much earlier than I did, which had always inspired me to give it a try. She is a multifaceted aerialist and trains on silks, lyra, pole, handstands, and contortion. I am constantly impressed with her flexibility, which inspires me everyday to keep working on my splits, bridges, and all things flexibility! 
"When I first tried the aerial silks 5 years ago, I couldn't even lift my feet off the floor while holding the silks. Even though I've always spent hours at the gym doing cardio, I was so weak and overweight. Despite my weakness on the silks, I had so much fun. I felt so sore the next day and decided to stick with it and take weekly class. After 2 years of doing this with very minimal improvement, I quit the gym and got the unlimited class membership with Body & Pole. I began to get super strong, and gain more muscle. I went from eating for the wrong reasons: Just wanting to lose weight, to eating for the right reasons: Wanting to be stronger and able to do more things on the silks and hoop, nailing headstands, and contortion. Since my first class, I have performed multiple times as an aerialist and have also been hired as an actress and fit model. Practicing aerial has opened up so many doors for me and given me the strength that I never knew I could have."
Liz
I remember when Liz first started taking class at the studio and I am fortunate to have had the opportunity to watch her grow into such an engaging mover and powerhouse. Her fluency between each complex move she nails is truly beautiful to watch. It is so clear how much confidence she has gained during her time at the studio and I can't wait to see the progress she continues to make. 
"I wasn't always confident and even today I would consider confidence a journey. There are always going to be bumps in the road, but the person I am today is much happier and more confident than the person I was years ago. Pole Fitness has played a major role in changing my perception of myself. When I went to my first pole class, I was wearing shorts and a loose tank top. Loose, flowy tanks were my comfort zone and I could not imagine taking off my shirt at the time. I remember seeing other girls in sports bras and little pole bottoms. I thought to myself "I don't think I'll ever feel comfortable enough to wear that" as I was not comfortable in my own skin but I desperately wished I was. As pole became more than a hobby but a passion for me, my pole studio became more than just a place to get a good workout. It felt like a second home. Within that time I have come to realize that everyone who came into the studio had their own goals despite coming from different backgrounds and being a variety of ages, shapes, and sizes. The diversity within the community is beautiful, but what's even more beautiful to me is how supportive and welcoming these individuals are. As time went on I saw my physical body change to a stronger and healthier version of myself. Before pole I was hesitant to explore my sensual side and was timid with my movement. Now I have become so confident with not only my body but my ability to push myself and do pole moves I never thought I'd be able to do in my lifetime. I have some awesome instructors to thank for this. I now love dressing up in outfits that make me feel my best and even love wearing heels. I've learned that the most captivating performers are the ones who show off their confidence and comfortability in their bodies and movement. It doesn't matter what their physical bodies look like. It's all about their attitude. These performers are the ones that inspire me to be my most confident self and have helped me learn to love myself and my body more along this journey!" 
In a world filled with expectations of body weight and image, many of us are so distracted by diet culture and forget how important it is to feel strong and healthy. It is such a beautiful thing to finally discover and pursue what makes us feel like our most confident selves. Aerial arts will challenge you to explore various sides of yourself and do things that you never thought you were capable of. As time goes on, you will begin to feel empowered by those things and how they feel in your body when you move from them. This leaves room for growth and the aerial journey only begins there. When passion meets physical activity, something magical happens. We begin to love ourselves and what we can do rather than what we see in the mirror and that in itself makes us beautiful.
Annemarie Levakis is a vocalist, actress, and aerial artist based out of Long Island, New York. She began journey as an aerialist over three years ago and continues to train daily and perform in showcases whenever she is given the opportunity. Check her out on social media!