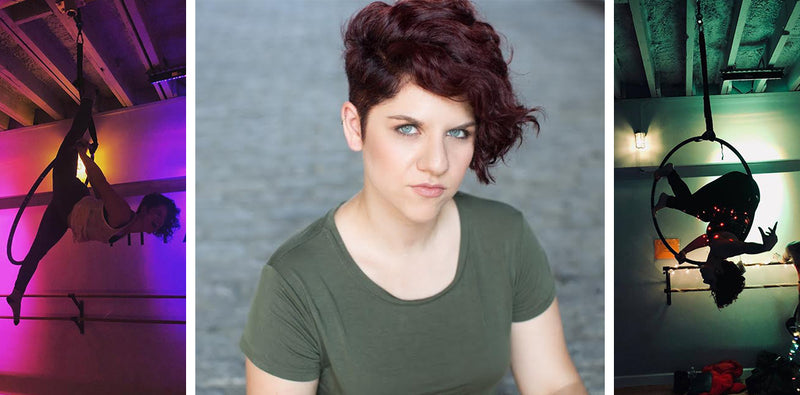 Finding My Voice Through Movement
Written by Annemarie Levakis
I still remember my first aerial class; it was an Anti Gravity Yoga class that my friend had told me about. It sounded interesting and fun but when I walked in and saw everyone upside down I thought to myself "what am I getting myself into?" Little did I know at the time that Anti Gravity Yoga literally meant you would be hanging upside down in a hammock. I was overwhelmed by the thought and felt that I was incapable of doing it but decided to give it a try. Taking that risk and trying something out of my comfort zone proved to be a life changing experience for me. Now after three years of consistently taking Lyra and Pole, I cant picture my life without it. 
My name is Annemarie and I am a singer, actress, and aerialist based out of Long Island, New York. My home studio, home away from home, and happy place is The Fit Factory located in West Babylon. I majored in Musical Theatre in college and graduated with a Bachelor of Fine Arts. Something the professors always reminded us about before venturing out into the real world was to do what we could to become a triple threat: an actor, singer, and dancer that way we were more desirable to casting directors. Many times when you were an actor/singer first, you were lacking in the movement area which was exactly where I felt I fell short.  I went to countless dance classes and no matter what I did I never felt that it was something I could ever become good at. In fact much of my acting training was movement based and it was something I continued to feel self conscious about. Choreography never came naturally to me and I always felt lost. The fear of possibly looking stupid played a huge role in these insecurities up until I discovered the magic of training aerially. There is something so beautiful about being upside in an apparatus that spins without much time to think about what your body is doing and how you are doing it. This definitely took many hours of practice to get to that point but once I was there, the feeling was incredibly freeing. As someone who over-thinks a good amount of the time, not only did this become something to help further me in my career, but became an outlet as well.My studio became my home. A place where I could freely express myself
through movement which was something I could never find anywhere else.  Seeing my progress inspired me to train in flexibility and condition on my own away from my 3-4 days at the studio. I began to film myself more and notice the progress I was making and I started to gain much more confidence in myself. This motivated me to start filming videos to submit. This past year after submitting my Lyra and vocal performance videos in to Macy's Casting, I later received an email notifying me that I had been cast in the Macy's Day Parade as a dancing puppet. It was a major shock especially since the year before I hadn't heard back. This was definitely a huge turning point for me especially because it was my first paying acting job. I was so thankful that I got the opportunity especially since being in the parade was something I have always wanted to be involved in since I was a kid. I always heard that they cast actors with aerial skills which was another reason why I became motivated to sharpen my skills. 
Since honing in on my aerial skills, auditions have felt drastically different for me in a positive way and I feel that it added an edge to what I have to offer. It gave me the tools I needed to be able to go into the audition room with confidence. To feel that I have something more to offer than just my acting
 and singing abilities is exactly what I needed to feel good when going for these jobs. I find that I now compare myself to others less and am able to recognize that I am unique. This is something everyone needs to remember in general. There is only one you and it does not matter how talented others are, no one can duplicate that. Most importantly, I have found a way to be heard and have a voice in ways that do not involve acting through a monologue or singing through a song but through movement. A lesson to be learned for anyone reading this is that no one should ever limit themselves or doubt their ability in something. With enough focus, motivation, and passion for something, you can master anything.
Annemarie Levakis is a vocalist, actress, and aerial artist based out of Long Island, New York. She began journey as an aerialist over three years ago and continues to train daily and perform in showcases whenever she is given the opportunity. Check her out on social media!