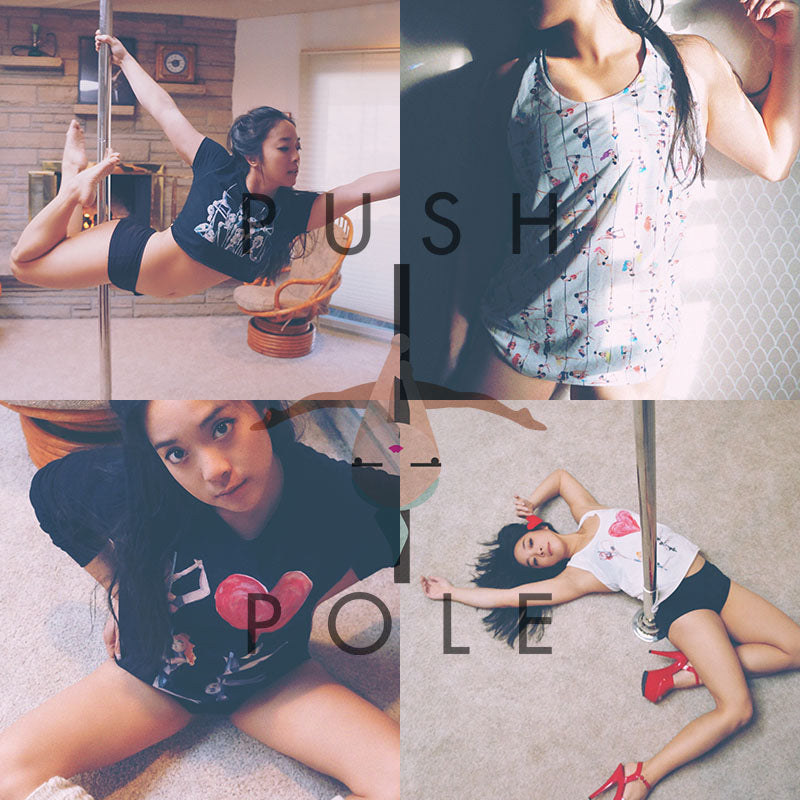 Good day my dearest pole sisters!  The day has finally arrived where Push + Pole has finally (beta) launched!
It's been a little over 2 months since I officially committed to this #selfemployedoramireallyunemployed? lifestyle and every day I wake more excited to work and bring my ideas to life. I've become obsessed with writing my "things to do" in my planner and then checking them off as I get stuff done. It's crazy how now my time spent daydreaming is would actually be part of my "job" now. There's still a long way to go and so much more to do but for now I'm proud to say that I have something out there. It started with an idea, a paintbrush, a bedsheet, a point and shoot digital camera and some Photoshop and now I have a brand (or will build one). And I only hope to take my DIY spirit to greater and bigger things for my business!

Right now Push + Pole offers tanks, tees, sweaters and leggings featuring original illustrations.
I will be adding new designs and prints along the way and will only be continually make more cool stuff for us crazy polers/aerialists/upside-down-flying-high junkies. My goal for end of 2016 is to launch a small collection of polewear & fitness apparel. Get excited for those sports bras and booty shorts! Can we ever get enough? Nope.